9 Perfect Ring Bound Planner Binders For Your Organizing Needs
Being organized feels great and having the right planner binder at your fingertips can make all the difference. No more missed meetings, phone calls, birthdays or anniversaries when you know exactly how to use a planner and have all of your important information in one easy-to-access place.
What's especially awesome about planner binders is that you can really design one to best suit your needs. After you choose the binder, you get to pick the inserts and additional accessories, so it's a great opportunity to customize it to your liking.
Getting started
But first things first: You need to pick a binder!
There will be many aspects you'll need to consider when choosing from the wide selection of ring binders available. 
Do you prefer a leather notebook or are you more of a PU leather person? Are you in the market for an A5 size, an A6 binder planner or something else? Are the binder inserts you want available in the right paper sizes? Are you looking for a binder with planner decorations, like stickers?
Will you be using it as a wedding planner, a life planner, or an academic planner? Perhaps it will be a traveler's notebook or a budget binder! What will be its ultimate purpose?
Chances are you're unsure which one is right for you, so keep reading for everything you need to know before you take the plunge.
Lifestyle matters
First you'll have to answer this important question: Are you going to take your planner  binder with you on the go or will you be leaving it at home?  Do you plan on sticking it in your purse or shoulder bag so that it's readily available at all times or will you leave it in a designated spot on your desk or on the counter top? Do you work outside your house or do you work remotely? Or are you a stay-at-home-mom or an entrepreneur?
Your lifestyle matters as this will help determine which planner binder is right for you.
If you're constantly on the go, we recommend opting for a small or compact planner binder so that it's easier to carry around and doesn't weigh you down. Of course, If your binder is going to "live at home" then it's easier to choose a larger model. Once you've decided on the size, you're ready to start narrowing down your choices.
Material girl (and boy)
Again, keeping in mind your lifestyle and broader plans for your planner binder, you'll want to consider the material too. Do you want something in leather or perhaps leatherette? Maybe canvas is more your style or you had something fabric in mind.
If you don't see anything you love, you can always hop on Etsy and pick your own fabric planner binder cover or, if you're crafty, grab your sewing machine and make your own!
Planner sizes, explained
Broadly speaking, there are five different planner binder sizes. They are, (more or less) from largest to smallest: 
A5

Classic

Compact

Personal

Pocket
The most popular planners according to size are the personal and the compact models, though it's worth noting that one brand's classic may be another brand's compact, and vice versa. For example, Filofax's personal and compact binders are exactly the same size and Franklin Covey's compact and pocket binders are larger than the Filofax planners. 
Binder paper for the personal and compact models is usually 95 mm x 170 mm / 3.75 inches x 6.75 inches and 108 mm x 171 mm  / 4.25 inches x 6.75 inches, respectively, but as we said, these measurements vary.
Planner inserts for a customizable experience
This is where your planner binder starts to really take shape.  
When using a regular planner, the pages are how they are; you've little room to customize or adapt them to your specific needs. When you use a binder, you have the chance to pick printable planner inserts that adapt to your needs.
You get to decide whether you prefer weekly calendars or a monthly planner, or both. Only you know how much writing space you need or if you prefer plain or grid paper. You know which loose leaf sheets are the most appealing. And if you want to track specific items, like craft supplies or school supplies, most likely you'll be able to create your own or find sheets to do so.
As for us, our favorite planner inserts can be found here. Goldmine & Coco offers an extensive selection, with 25+ options in total that let you track and create:
Monthly bills

Weekly Tasks

Afterpay Expenses

TV Tracker

Daily Devotionals

Every day notes

Debt Repayment

Daily Schedule and

Quick to-do lists 
Pick and choose the ones that you need the most and adapt your planner accordingly. 
We have:
- Project planner and project tracker inserts, complete with pie charts and flowcharts
- Exercise and meal planner inserts
- Faith inserts
- Debt payment trackers
- Cleaning inserts
- Inserts to track your favorite TV series
- Self care inserts and, of course
- Traditional monthly calendar inserts as well as weekly, daily and hourly options
Our planner inserts are available in a range of sizes, including A5, A6, B6, half letter, and classic HP.
The 9 best ring bound planner binders
If you're ready to pick out your new ring bound planner, keep reading for a selection of our favorites.
1. Filofax - Original Leather Planner Binder
You simply cannot go wrong with a Filofax organizer. This thick leather planner is available in a dozen different colors and in the A5 and personal sizes. It comes with an undated yearly planner as well as a to-do list, contact pages, note paper, and indexes, and you can grab some of your favorite inserts when you're finished with these.
We also love the multiple card pockets, slip pocket, jot pad pocket, elastic pen loops and multifunctional elastic holder.
2. Franklin Covey - Friday Planner Binder
Now here's a rugged planner binder that should be able to weather any storm. Franklin Covey's Friday planner binder is made from nylon and features a zipper closure and a large front pocket with a magnetic closure, perfect for storing your phone.
This black model is available in two different sizes, classic and "monarch," has a rear zipper pocket, pen loops and interior pockets for credit cards.
3. Van Der Spek - Touch Me Manager Binder
If you're looking for something a little bit luxurious, you'll want to get your hands on this buffalo leather planner. This 6-ring binder comes with the works: 6 horizontal credit card pockets, 2 elasticated leather pen loops, 3 full height slip pockets, 2 secretarial flaps, an interior bottom pocket, a big back pocket, and a full height gusseted zipper pocket. 
You have five 5 different colors to choose from plus the option of adding a personal touch to your planner with an embossed word or phrase.
4. Day-Timer Kathy David Binder
How about a lovely pink and purple planner binder to continuously lift your spirits? We love the subtle floral design on the cover, and the faux leather material is soft and durable. This binder comes with a secure snap closure, an elastic pen loop and a pocket to include notepad refills.
5. Mulberry - Postman's Lock Agenda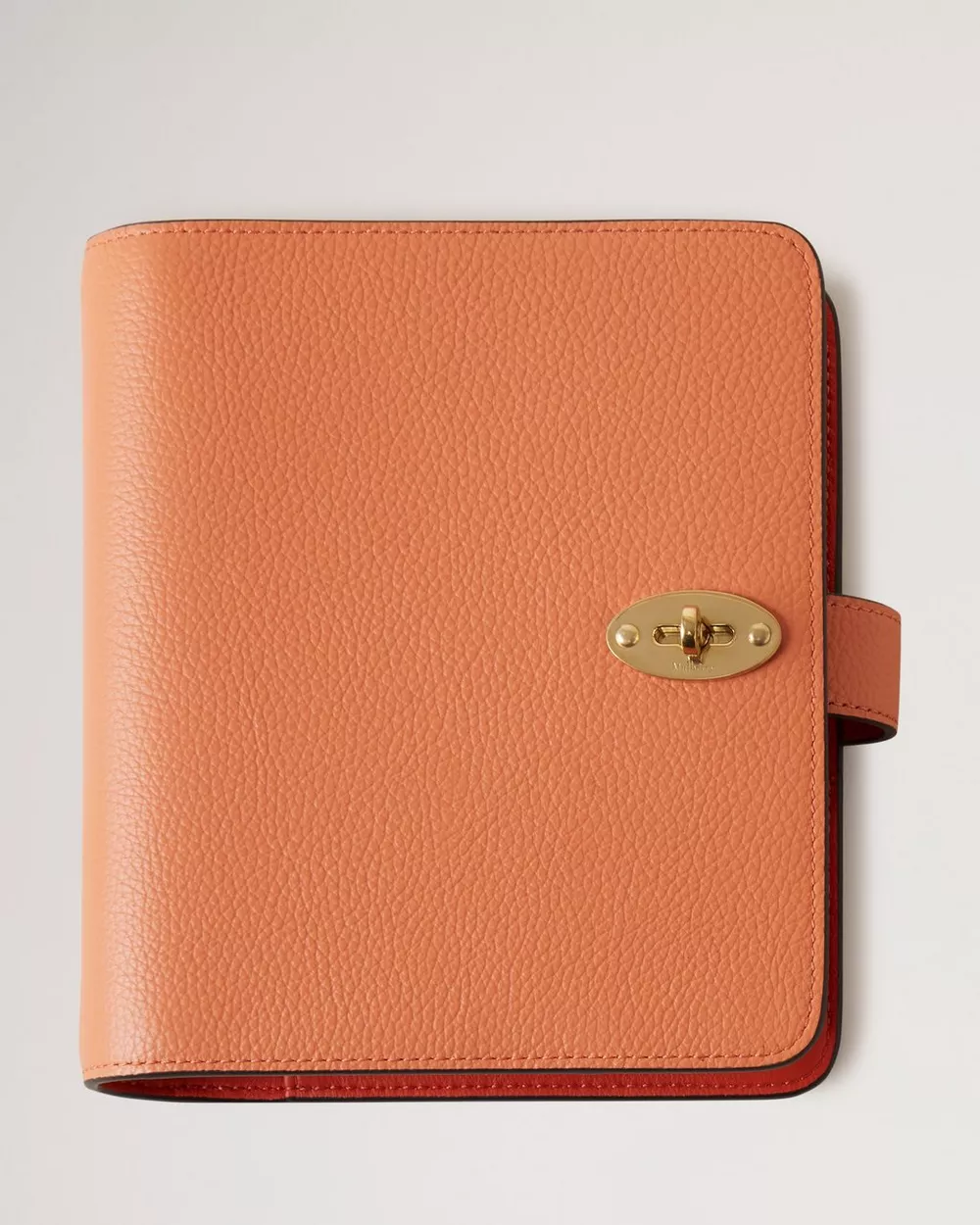 Take your planner binder game up a notch or two with this incredible apricot model from Mulberry. This medium-sized model is the company's most popular style and it should fit easily in your bag or in your briefcase so you can take it anywhere you go.
Though small, this planner has everything you need, namely 4 credit card pockets and a pen loop. It comes with a set of inserts with note paper, address pages, maps, useful dates and a calendar, which you can always switch out for your favorite planner inserts. We especially love the material, a soft cow leather with a printed grain effect, and the lock closure.
6. Erin Condren - Kaleidoscope Planner Binder
No list of planners would be complete without an Erin Condren. This fantastically colorful model comes with an 8-ring signature binder system and has an extensive and attractive layout which features mini months, monthly quotes, productivity pages and monthly notes, a monthly 2-page calendar spread, a dated and tabbed calendar, 2 sticker sheets and a folder. Of course, when you burn through all of those pages, you can order a refill.
7. Russell+Hazel - White Gold Planner
If you're looking for something simple to help keep you on track, look no further than this Russell+Hazel binder. We're especially drawn to the bold planner cover design with its gold foil pressed details. 
This mini binder has a durable, thick, patent finish cover and a double sided pocket for storing important cards and documents. It has 15 monthly spreads and 53 weekly spreads as well as a sticker sheet with over 200 planner stickers.
8. Day Designer - Mindful Mint Leather Binder
This lovely 6-ring A5 leather binder brings together luxury and functionality. It comes with a pen loop, inside pockets, flat zippered and stitched pockets, and a gold zipper and magnetic closure. The mint leather cover really makes this binder pop.
It also comes with an amazing starter pack that includes 120 pages of premium white pages, colored and customizable tab pages, a perpetual calendar, monthly overviews, grid dot pages, line note pages, expense tracking sheets, and sticker sheets.
9. The Happiness Planner - Black Leather Binder
And last but certainly not least is this vegan leather binder, a wonderful option that goes above and beyond the average planner. It has a smooth and lustrous interior, an elastic pen loop, a magnetic closure, 3 internal pockets/slots and a very unique and stylish cover.
What we also love about this ring planner is the undated inserts. It goes above and beyond your normal planning and organizational needs to help you focus on happiness, gratitude, passion, inspiration, positivity, self-development and mindfulness. Accordingly, it has a weekly happiness roadmap, inspirational quotes, and end-of-the-year reflection, and goal setting pages. 
You're officially ready to get started
Create your own personalized planner by picking the binder you like the most and the planner inserts that meet your specific needs. That goes for whether you're considering day planners, business planners, wedding planners, designer planners, or something totally different. 
The world of daily planners and personal organizers can be totally overwhelming. We trust that this overview will help you make your final decision or at least give you some food for thought.
Let us know what you think Gems! 
---