The Best Hourly Planner Templates for Maximum Productivity
Most people have a preference when it comes to getting organized and being productive. 
Some prefer to jot down their tasks on Post-Its, others use an app on their phones, and still, others prefer to list out important events and activities on a whiteboard. There's no wrong way, of course.
But if you're still struggling to keep track of everything you're doing or you're looking for a major boost in productivity, you'll want to consider using an hourly day planner. Breaking down your day into these bitesize pieces will give you back a sense of control in your life, not to mention peace of mind.
Why use an hourly planner?
There are many advantages to using an hourly planner, which is especially ideal for people who are constantly multitasking and on the go.
These planners offer a great way to reduce the overwhelm when you feel like you have a million things to do and you're managing different schedules.
A daily agenda broke into hours also allows you to schedule out your day in advance and organize everything you need to do in a single day, or at least try to.  Whatever you don't finish, you can schedule for the following day. Few things are more satisfying than checking tasks off of your to-do list and an hourly planner is the best way to help you stay organized and productive.
How to use an hourly planner
There's no right or wrong way to use a planner, and we have tons of planner tips for beginners if you need them. How you organize your day will depend on your personal preferences. 
However, if you're just getting into hourly planners now, here are a few tips to help you get started.
One approach is to make a master list of every single thing you have to do. Then look at your hourly planner and strategically assign all of your tasks. Start with "fixed tasks" first, such as appointments, work-related projects, and extracurricular activities for your kids, as these are more rigid. Then you can work more flexible tasks into your schedule.
Something else to keep in mind is that if you're more alert in the morning, make sure you assign the most challenging tasks in that time frame. Alternatively, if you've got high energy levels in the afternoon, you can slot in difficult tasks accordingly.
It's also important to assign the right amount of time to each task. In my experience, it's better to assign more time to a given task rather than less. This gives you more leeway and reduces the possibility of falling behind in your hourly schedule.
If you're using your hourly planner to study or for work, you might use it with the time blocking productivity method. With time blocking, you essentially divide your day into blocks of time. 
Each block is dedicated to one set of specific tasks and only those tasks. To do this you need to prioritize your task list and adjust your time blocks according to the progress you make each day. An hourly planner is ideal for this type of strategy.
How to pick the right hourly planner templates
Deciding on the right templates will be a personal choice and there's no shortage of options to choose from. You will have lots of characteristics to consider, from the planner layout and page size to time intervals.
What will you use the planner pages for? Is this for teaching, work, or homeschool planner? More specifically, if you're a student or a teacher, are you looking for academic year weekly templates or academic year daily templates? If you're a new mom are you looking for pages with space to take notes about your baby? If you're a virtual assistant, are you in need of simple templates that allow you to keep track of hourly appointments for your clients?
Do you prefer a horizontal or vertical layout? What page size suits you: A5, A6, half-size letter or Filofax?
Do you want un-dated daily or weekly pages?
Do you want your pages printed on premium paper and sent to you in the mail? Or do you prefer a printable daily planner you can download and print at home?
Once you've given these questions some thought, you're ready to pick something out.
Below is a selection of our favorite hourly templates. It's officially time to get organized!
The best hourly planner templates
Without a doubt, one of our favorite hourly planner inserts is our own. Our vertical A5 daily planner inserts are perfect for time blocking and will help you make sure that you never miss an important appointment or task again. These inserts offer a very thorough hourly overview of your day, plus they have extra space where you can jot down notes and other comments to help keep you organized.
This pack of 16 sheets (8 double-sided pages) are un-dated, begin on Monday, and are punched and printed on premium paper that has a smooth and heavy finish.  They're available in multiple sizes including A5, A6, B6, half letter, and classic HP.
Another option from Goldmine and CoCo are our daily breakdown planner inserts. These offer an extensive scheduling opportunity as they range from 5 a.m. to 4 p.m. in hourly increments. They also offer space to highlight your to-dos related to work,  home, and personal tasks.  
These inserts start on Monday and, like the inserts above, are punched and printed on premium opaque paper with a heavy finish. They're available in five sizes: A5, A6, B6, half letter, and classic HP.
We also have a fantastic set of daily schedule follow-up planner inserts which allow you to schedule your day from 5 a.m. to 5 p.m. in hourly increments. These inserts also include several other features such as a large space for notes and thoughts, a separate to-do list, space for your brain dump, a water consumption tracker, and an area dedicated to follow-up reminders. You'll love how they combine the possibility of keeping track of your day by the hour along with several other features to help you get organized.
This daily organizer package comes with 8 double-sided undated pages, punched and printed on top-of-the-line thick paper with a professional finish.  Like our other inserts, they are available in five sizes: A5, A6, B6, half page and classic HP.
We also offer vertical and timed weekly inserts as a digital download from our site. These arrive in a pack of 16 pages (8 double-sided sheets). These are organized with weeks spanning two pages, with a large space at the top to include notes followed by an hourly schedule where you can fill in your tasks.
These are available in 10 different sizes, including A5, A6, half letter, personal wide, and more. 
What could be more convenient than these printable planner templates? Print them out in the comfort of your own home and start getting organized today.
5. Weekly Planner Printables from Etsy
These weekly and monthly planner printables are a steal, offering lots of ways to organize your day. Each page has an hourly breakdown from 6 a.m. to 11:30 p.m in half-hour time slots. Above the hourly breakdown for each day is a box to list your top three priorities and at the bottom of the hourly schedule is a space for extra notes. 
These instant download pages also include a monthly calendar overview, space to write your top priorities for the week, a place for your weekly to-do list, and a habit tracker you can fill in yourself. Jot down reflections, thoughts, and doodles while setting up your day. 
These templates are organized in one week over two pages. They are un-dated, you can print and use them over and over again, and they offer both a Monday and Sunday start.  They're available in three different sizes: A4, US letter, and Classic Happy Planner.
6. Printsbery Weekly & Hourly Planner Templates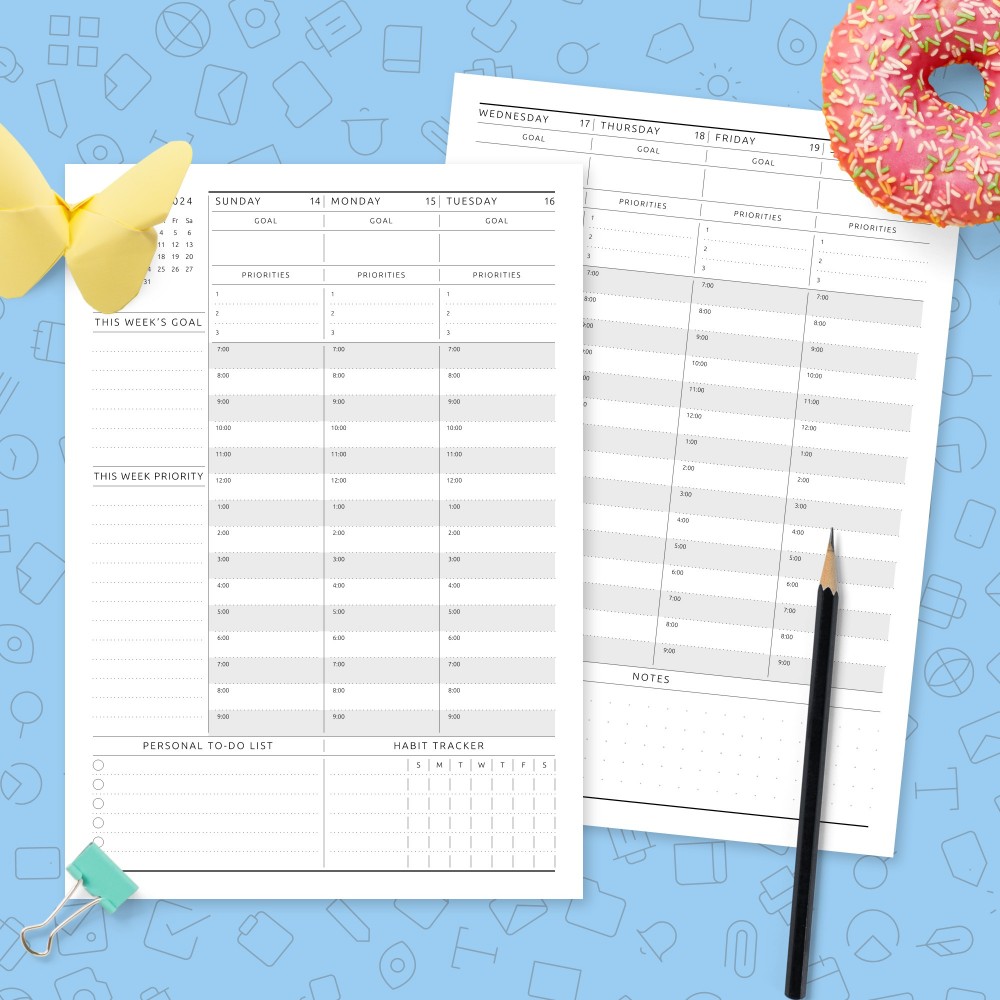 These guys have about a dozen different hourly planner templates to choose from, so whether you're looking for an attractive layout with pastels and flowers or you want something more formal in black and white, you'll likely find it here. 
They have printable hourly planner inserts that offer you space to chart your day from 7 a.m. to 9 p.m. on an hourly basis and from 6 a.m. to 11:30 p.m. every half hour, depending on your specific needs. 
Some templates include just an hourly tracker while others have room to track your priorities, habits, and goals. We love the range of choices here, most of which can be printed in 11 different sizes, from A4 to A4 Filofax and half letter Filofax to Happy Planner Big.
7. Onplanners.com Hourly Schedule Templates
This site also has an extensive selection of hourly schedule templates. There is a wide variety of styles available and more than 10 different templates. Some track from 6 a.m. to 9 p.m. and others track from 7 a.m. to midnight.
Depending on your schedule and your specific needs, you should be able to find the perfect template for you. All of these sheets include additional features such as habit, exercise, and calorie trackers, and space for your short-term goals and your shopping list. Several even include space to practice gratitude.
Most of these templates are available in 11 different sizes, including A4, A5, and half letter Filofax to three different Happy Planner sizes.
8. Day Designer Printable Hourly Templates
Day Designer has a selection of printable hourly templates. In total there are four planning pages that let you organize your day by the hour, often starting at 5 or 6 a.m. These sheets have a rather straightforward black and white design without a lot of "frills." They do include other features in addition to the hourly schedule breakdown, such as space to write your goals and your to-do list,  your meal plan, and to focus on gratitude.
These templates are made to be printed on 8.5 x 11-inch paper and are designed to help you take better control of your day.
9. Daily Hourly Planner Templates Pack from Etsy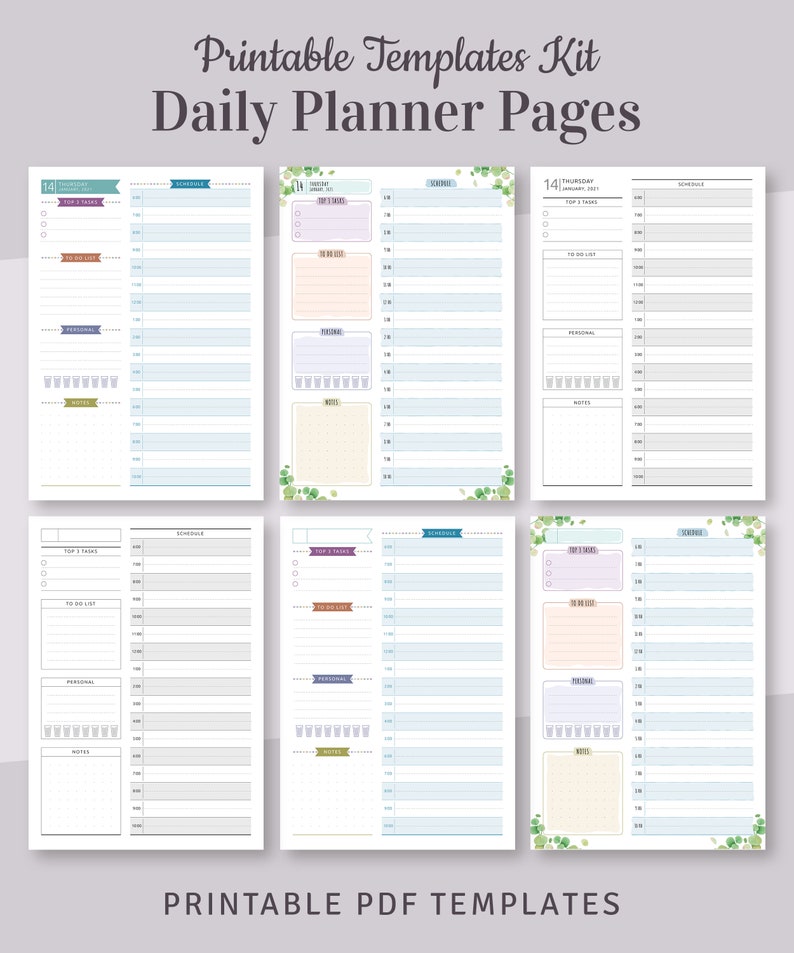 If you're looking for some serious bang for your buck, check out the hourly planner printables (and more) right here. This set includes 30 different templates and can be printed in five sizes: A4, A5, letter, half-letter, and Filofax.
The daily planner includes six attractive pages in either black and white or color. The hourly section of the templates runs from 6 a.m. to 10 p.m. with extra spaces to include events and activities during half our periods. They also feature spaces for you to jot down your top tasks, to-do lists, personal notes, and water intake.
This massive pack comes with monthly planners, to-do pages, goal planner and habit tracking sheets, yearly calendars, and pages for notes.
10. Worksheets.com Inserts
Here's a clever option that lets you customize your insert. You get to choose a wide range of characteristics. This includes the day range (single day, Monday to Friday or Sunday to Saturday), the year, the month, the date, the paper size (letter or A4), and the orientation (tall or wide).  
One aspect we love about this template is that you can pick the hour range according to your schedule, so you can set up your day from 4 a.m. to 9 p.m., from 11 a.m to 11 p.m., and so on. We also love that you can set up the template in hourly blocks or divide the hours into 30, 15, and 10-minute intervals.
While the template is aesthetically simple, it's 100% functional.
11. Weekly Schedule Printable and Timetable Insert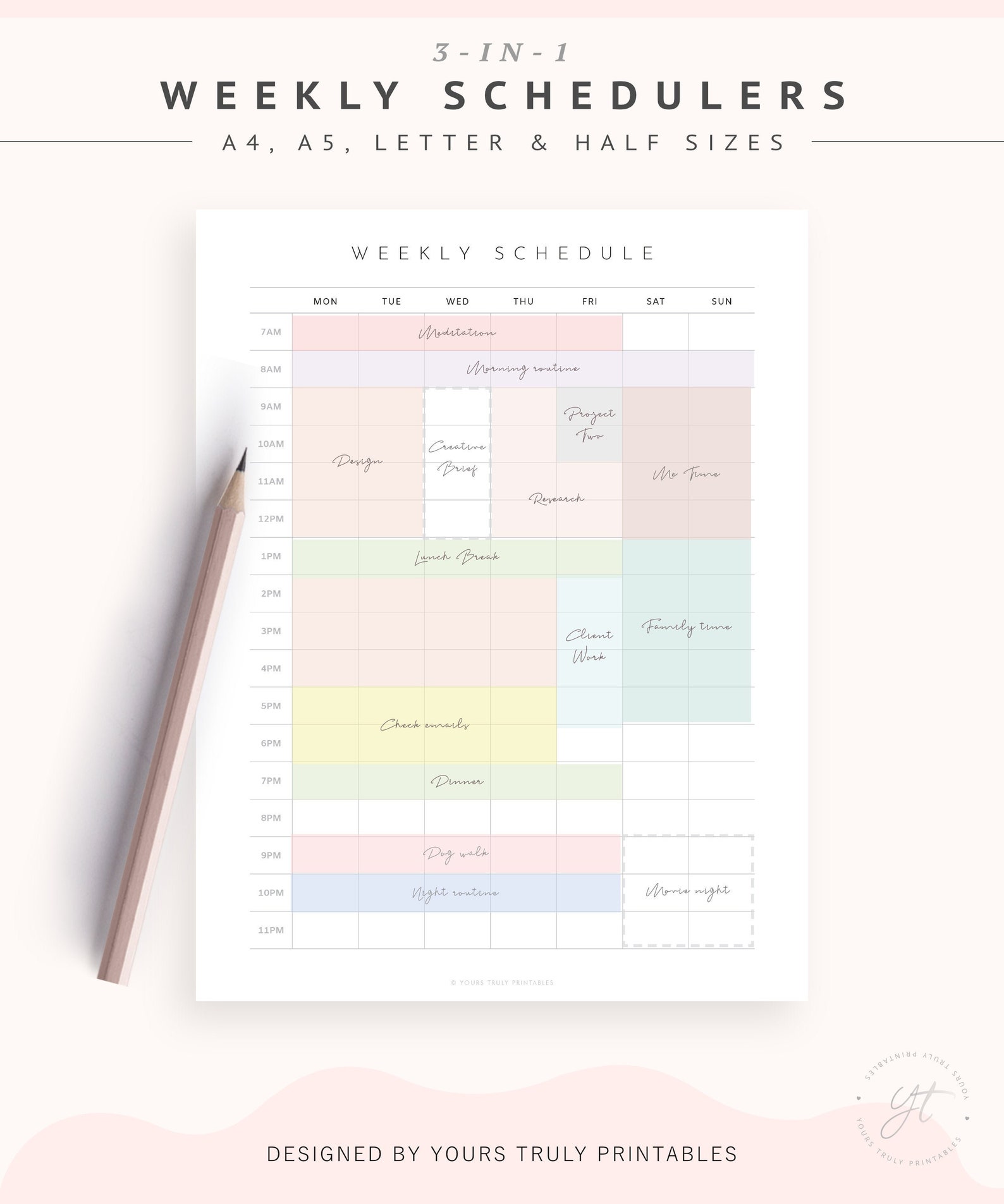 If you're into time blocking, these templates are the perfect solution for your organizational needs. This digital download bundle will sort you out as it has three options, depending on your preferences: a half-hourly schedule, an hourly schedule, and a morning-afternoon-evening-night template.
There's plenty of room in the margin for hole punching and these planner PDF files are available in four sizes: US letter, A4, A5 and half letter. The minimalist design of these undated planner pages is clean and simple and they will look great in whatever planner you use.
You're ready to start planning your days!
Let's be honest: life is hectic. Using a planner in the right way can help simplify your life, and using hourly planner pages can really help you get a clear overview of what your day and your weekly schedule are going to look like.
Chances are if you don't control your schedule, your schedule is going to control you. It's time to ditch your old school appointment books and get your hands on daily and hourly planner templates.
Whether you're organizing your workday, your study plans, or your child's schedule, an hourly planner will help you increase productivity,  break down the day into smaller bites and get the best possible handle on all of your to-dos!
---
1 comment
---
---